Video Testimonials
"5 Years... And Everything Has Been Really Very Great"

"Jean and Marli have been cleaning and performing services in my building maybe for 5 years and everything has been really very great.
They show up always the same time, we do twice a week in our building and everything is always great when they come in the next morning!
The other great thing is that we do special projects sometimes and I ask Jean I ask Marli what do you think about waxing the floors, what about scrubbing the tile. And Jean Carlo​ will say: yes we can do that, it is this much money and it's always a great price.
Better then bringing someone else that I don't know, so I always feel that Jean and Marli have been a partner with me and making sure that my building is great for my employees. I'm really looking forward to continue my work with them."
Mr. Tom Sivak
Senior Technology Executive
Amano McGann, Inc.
www.amanomcgann.com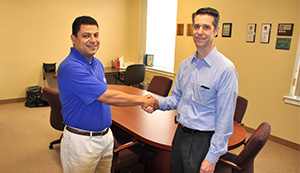 Jean And Mr. Sivak

They Always Pick Up The Phone And It Never Goes To Voice Mail.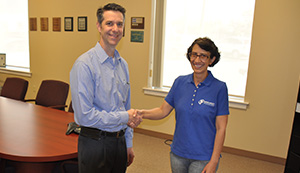 Mr. Sivak And Marli
"THEY DID A FANTASTIC JOB, THEY HAVE CONTINUE TO DO A FANTASTIC JOB"

"Hello my name is Marcel Safar, I'm the owner and manager of Daniel Rene Commercial Real Estate. We are a Commercial Real Estate Property Management Firm in Downtown Boston. It's my pleasure to be here with Jean and Marli to give them this recommendation.
I've been working with Jean and Marli for 4 years, over here. My building is located at 109 state street indowntown Boston. Since before working with Jean and Marli I had many people coming to the building to service them. Sometimes good, sometimes they start good and don't end up so good, sometimes they start off and increase prices.
For myself as a businessman working with Jean and Marli has been invaluable to me. Because for the moment they came in they did a fantastic job, they have continue to do a fantastic job. Their pricing is always very competitive. They care about the work that they do, for me as a businessman this is invaluable because I always know that my properties are going to be serviced well. I know that I can turn my attention elsewhere to the things that are needed in my business and also I know that Jean and Marli oversee the properties that they managed themselves. That is again invaluable service to my business. It's a pleasure to give this recommendation and anyone who has any questions, feel free to contact me directly."
Marcel D. Safar, Esq.
Owner
www.Daniel-Rene.com
Daniel René Commercial Estate Services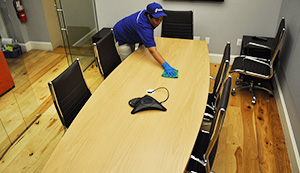 I Always Know That My Properties Are Going To Be Serviced Well.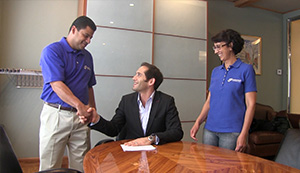 Jean, Mr. Safar And Marli
"HE CAME RIGHT OUT AND TOOK CARE OF IT"

"I know Jean for over a year now. He works for our company GTI Properties. It's located in Boston on Saint Botolph St. He takes care of 19 buildings. There's over 300 apartments.
He's got a couple of commercial spaces too. And he is very reliable. For example, I had an emergency on the weekend on Saturday and I gave him a call a and he came right out and took care of it.
It was broken water heater. Very reliable. Steam cleaned the guy's carpet and the tenant had no problems and that we like over here at GTI. I would recommend Boston Quality Cleaning.
I'm Mark Murphy and I put my word behind it. It's VERY RELIABLE. I like Jean."
Mark Murphy
GTI Properties
Boston, MA
www.GTIProperties.com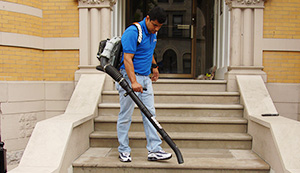 He Takes Care Of 19 Buildings. There's Over 300 Apartments.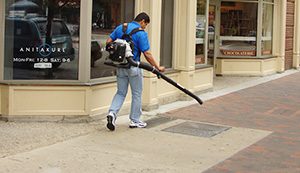 he came right out and took care of it.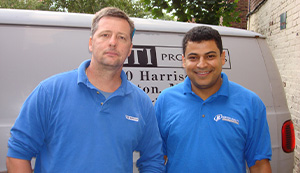 Mr. Murphy And Jean
"Cleanest Restaurant In The City"

"We've been using Quality Cleaning for the last 3 years. He's extremely reliable, on time, any time there are special needs in the restaurant, he's down within an hour or so to handle the problem. He sanitizes the areas. We've had comment from the health inspector that this is the cleanest restaurant in the city of Reading, MA.
We've had many comments from customers... how clean the restaurant is when they come in. Everything is done to perfection! I couldn't ask for anything more from Jean. We've used other companies through the years. I've been in the business since 1972...Jean is by far superior to all.
I would recommend him to anybody in the restaurant business. Affordability is great. The amount of cleaning, the quality of the cleaning, it's well worth it. And he's trustworthy. He's got my keys to my restaurant. My codes to my alarm system. There are many times when I come in I will find a 20 dollar bill or 10 dollar bill sitting on the bar (this is the truth!) that his workers had found during the course of the cleaning and will leave on top of the bar for us. That's a great plus. My pleasure! Anything I can do for Jean I will."
Mr. Carmen Lavallo
Venetian Moon Restaurant
680 Main St Reading, MA 01867
Reading, MA
www.VenetianMoon.com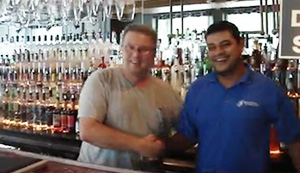 Mr. Lavallo And Jean

We've had comment from the health inspector that this is the cleanest restaurant in the city of Reading, MA.
"We've Been Really Satisfied"

"We opened our school here a little over two years ago and it's a brand new facility to train medical assistants, dental assistants and medical billing professionals.
One of the things that were most important to me was the look of the facility to make sure that both the students and the staff have the best facility possible.

I found Jean before we opened and we hired Jean to perform all of the janitorial cleaning and maintenance services, and so it's been over two and a half years now that we've been with Jean. We couldn't be happier, the facility looks great. It's really one of the first things that students tell us when they come in to take a tour is 'Wow, this is a great facility'. Whether its students, we've also had advisory board members that have told us and all of our home office visitors and it's the first thing out of anybody's face is how great this place looks.
It's attributed to Jean and Boston Quality and they've kept things looking brand new. It's two and a half years old, but it still looks as bright and shiny as it did the day we opened.
We're really pleased with Jean's services. This, where we are standing right now is the student lounge where students have the opportunity to eat lunch, to eat dinner. The students come a lot of times during meals. This is obviously a really important place to keep clean and Jean's staff keeps it sanitary and everybody enjoys it.
We do medical training and so we've got laboratory areas that need to be impeccably clean, and again, thanks to Boston Quality. The place looks great.
This is a great room, our dental assistants use this. They learn how to all of the chair type procedures and they also learn how to take x-rays. So as you can see, everything needs to be sterile and clean and students learn how to maintain the environment. Again, Jean keeps this place spotless and it looks great.
Overall we've been really satisfied and the other thing that I would add is that I've called upon Jean several times in the last couple years to go above and beyond. There has been times where we've been locked out of the building he has the building locked up and Jean is always quick to stop what he is doing to run over here, lock up the door and open door, whatever it may take. There's nothing that have ever asked him to do that he hasn't done.
- What was your first impression, you know, like the first week, what was your first impression of the quality of the service provided?
That is a great question, you're right. We are obviously nervous in the beginning and especially since the cleaning services typically happen when we're not here, supervised, so I was always a little bit worried. We had a couple of different services lined up that we have gotten quotes from, but every morning when I come in to this place it looks great and especially a couple weeks after we opened we had a big grand opening and where we would get VIPs and people from all over the country and it really shined the place up and so ever since the beginning it's been great. Like I said, we've had him for over two years and I don't plan on changing anytime soon.
- What types of comments did you hear about the women about the bathrooms, about the quality of the cleaned bathrooms, is it wonderful, amazing?
Jean's crew keep the bathrooms going and very well and we've got pretty high traffic, you know, a couple hundred students that are in here, the majority female staff and student body, and so the women's restrooms are obviously going to get a lot of use. But they come in mid-day, they come in the evening and they keep the place spotless.
- If people would like to come here and see your facility and the level of cleanliness, and also if they would like to apply to any of your courses, what's the address here in the Boston area?
We are located at 540 Commonwealth Avenue in Kenmore Square, right at the intersection of Brookline, Beacon and Commonwealth.
- What type of courses do you guys have?
We have three training courses, we have dental assistance, medical assistant, and a medical building in coding specialist program. I think that at almost any business, you can go in and see the level of dedication and care based upon the cleanliness of the facility and that gets commented, you know, to me all the time. It's how great the place looks, it gives everybody a great first impression.
- In this case is Boston Quality affordable, from what is paid to Boston Quality to maintain this top level of cleaning, is Boston Quality affordable?
We find it very affordable, it's right in line with all the course that we got and the service is everything we could hope for.
Adam Kellner
Executive Director
Kaplan Career Institute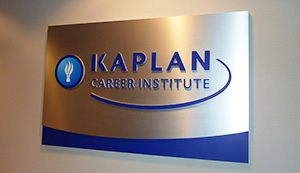 ever since the beginning it's been great.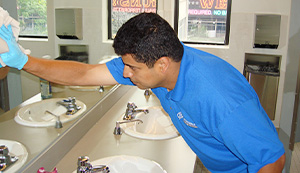 We couldn't be happier, the facility looks great.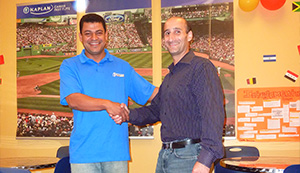 Jean And Mr. Kellner
"I WILL RECOMMEND THEM TO ANYONE"
"I have Boston Quality Cleaning Services Company [cleaning for us] for almost 3 years now. We are a private golf club and they clean all facilities, which includes 2 locker rooms, 2 dinning rooms and a bar/lounge area.
Because of the nature of our business they have to be completed with the job, the entire building by 7:30 in the morning. It's never been a problem, they are always ready for us to start a day business by 7:30 AM so they have been very successful in that part.
We have always done the in-house until we hire them and frankly we find that the job they are doing is considerably better than having it done in house, so we're very happy with what they've done.
Occasionally I ask them to do extras things, for example, to clean the pool area and they're always ready/willing and able to do it on time and they do a wonderful job.
Very profissional company I will recommend them to anyone."
Mr. Bob Moreli
Meadow Brook Golf Club Manager
292 Grove Street
Reading, MA 01867
www.MeadowBrookGolfClub.org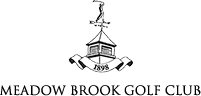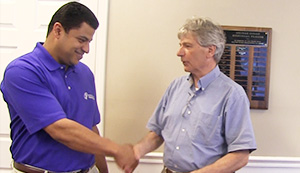 Jean And Mr. Morelli

Very profissional company I will recommend them to anyone.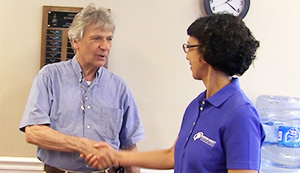 Mr. Morelli And Marli
"I FOUND THEM TO BE EXTREMELY TRUSTWORTHY AND RELIABLE"
"I've been using Boston Quality Cleaning Services for 4 years now in 3 different office locations.
I found them to be extremely trustworthy and reliable. They are there when they are supposed to be. The quality of the work is excellent. And most importantly is consistently excellent. It doesn't taper off, it's always been strong work.
I find it to be very reasonably priced. I would highly recommend them to anyone for their services."
Christos Viores
CEO - Ligris + Associates, P.C.
Greater Boston Area Law Practice
www.Ligris.com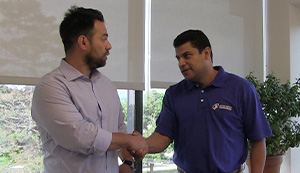 Mr. Viores And Jean

The quality of the work is excellent. And most importantly is consistently excellent.
"EVERYBODY SAYS HOW CLEAN THE OFFICE IS, HOW IMPRESSED THEY ARE"
"Hi my name is Cort Johnson I'm from Terrible Labs we run a mobile and web development shop here in Boston. Since we moved in to our office space we needed a good cleaning company and I was introduced to Marli and Jean from Boston Quality Cleaning.
I couldn't be happier with the services that we've got so far. I think every Monday when we get into the office everybody says how clean the office is, how impressed they are, every weekend these guys show up on Saturdays for us to take care of all the cleaning.
We never had any issue with them and I'm totally excited to continue working with them in the future."
Cort Johnson
Director / Business Development
www.terriblelabs.com
Terrible Labs, Inc.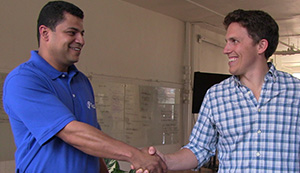 Jean And Mr. Johnson

I couldn't be happier with the services that we've got so far.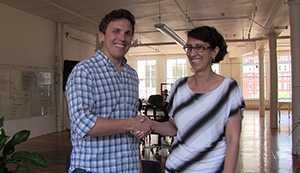 Mr. Johnson And Marli
"YOU ARE SO WONDERFUL AND I CANNOT SAY ENOUGH GOOD THINGS ABOUT THEM!"
"When I met Marli and Jean I was already very impressed because I was interviewing several companies and when they came they were the nicest. Actually they were the most attentive when I was letting them know what we needed, which was very important to me because the company that we had previously didn't seem to take into consideration everything that we needed.
Then, when I hired them, everything that I always asked they've always been very compliant, very nice, very easy to work with and the best thing is when the workers come into work and everyone says: "Wow it is so much cleaner! Wow Sedie, what do think of these new cleaning people? I'm like they are great, I'm very happy and what do you think?
And they are like, well I don't know but you know they do the little roses on the toilet paper and they do the little fans with the tissue box I think they are kind of showing off, I'm like well I think they should because I have no complaints.
Some of the issues that we had were our floors never complete cleaned so if your floors are never complete clean you can always feel that you just not clean in general and then our bathrooms always never seem to be quite clean enough and I think that Jean has said that our bathrooms weren't clean at all!
So, it is nice to know that they're clean now, because we weren't just crazy. We've been so happy with Boston Quality Cleaning with everything they've done with our office space and just their response and the way that they've worked. They are very professional and It's been such a pleasure working with them, so thank you Jean for everything that you've done, thank you Marli you are so wonderful and I cannot say enough good things about them!"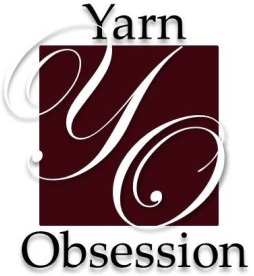 Sedruola Maruska
www.facebook.com/YarnObsession
Catapult Thinking
www.CatapultThinking.com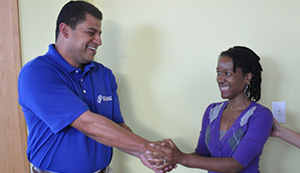 Jean And Ms. Maruska

Wow it is so much cleaner!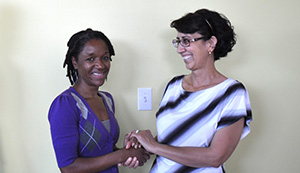 Ms. Maruska And Marli
"THEY HAVE A VERY GOOD STAFF AND QUALITY CO-WORKERS"
"Good Afternoon, I am Hayden Roc, Facilities Director at the Walnut Street Center. We use Boston Quality Cleaning Services for our facilities building and also in other facilities within various cities of Massachusetts.
The quality of the work is very very good. Exemplary to what they actually offered. And we are very happy that we have them in the cleaning section, things of that nature, sanitation.
We look forward to using them again throughout the year and hopefully for years to come.
They have a very good staff and quality co-workers throughout the Massachusetts area that does work for us and we appreciate that.
I thank them very much for what they do."

Hayden Roc
Facilities Director
www.WSCinc.org
Walnut Street Center, Inc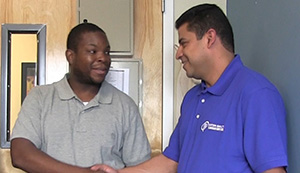 Mr. Roc And Jean

The quality of the work is very very good.
"THEY'RE QUIET, THEY'RE PUNCTUAL, THEY'RE DILIGENT"
"Hi, My name is Jesse Kearns, I work with Irrational Games. We've been using Boston Quality Cleaning Services for 5 years now. We couldn't be happier with their services.
It's affordable, they are extremely flexible. We have very flexible work hours here. We really appreciate the lengths that they go thru in order to make sure that our offices are clean and in good shape at all hours of the day for whenever anybody decides they want to work.
We hardly even notice them coming in. They're quiet, they're punctual, they're diligent.
There's been a number of instances when we've needed things that were outside the ordinary. Within a day, we've been able to turn around extra cleanings, deeper cleanings, specific things that you wouldn't typically expect a cleaning service to be able to execute. And they execute very well."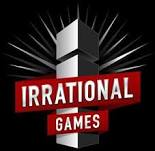 Jesse Kearns
Marketing Development Manager
www.IrrationalGames.com
Irrational Games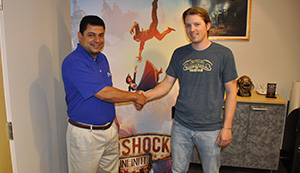 Jean And Mr. Kearns

It's affordable, they are extremely flexible.
"THEY ARE ALWAYS ON TIME, PUNCTUAL, INCREDIBLE, AFFORDABLE"
"Well, as Marli said, she's been our cleaning services for 7 years, we're small full service graphic design firm. Boston Quality Cleaning Services comes every other week for us. We don't probably need more than that because we are small company.
They are always on time, punctual, incredible, affordable and wonderful to work with. We've been with them a long time.
The only thing that I can think of would be a unique story. One business day the sewer actually backed up into the restroom. And of course you can imagine it was kind of nasty mess. I just made a quick email to Marli and I told her our situation was and they sent somebody over that night. That was incredibly appreciated. Because that was not fun.
The other thing that is nice about working with them is they are very responsive via email, which is easy handle during the busy day, and they've always met all of our needs.
We are very pleased to have them as our cleaning service.
How did you find Boston Quality Cleaning Services?
I actually found them on the internet. We were researching… We hadn't had cleaning service since we moved into this building before and you know we're in Boston Area but we are outside of the Boston proper. Finding someone that would come to this area and do [cleaning] for a small company such as ours in what would be an every other week service, it was a lit bit challenging.
Why did you choose Boston Quality Cleaning Services?
Well, they were definitely affordable and they were willing to fulfill our needs. We have unique floor surface and we didn't want any type chemical used on it. They were willing to work with what we recommended to maintain our facilities in the way that we choose. Meeting face to face was a big thing, they came to our office and had a conversation with us and that was impressive since the other ones just returned [the quote] by email so it was nice to meet them and know that they would take care of our facilities."
Lynn McNamee
Business Manager
www.ClevelandDesign.com/about/our-team/Lynn
Cleveland Design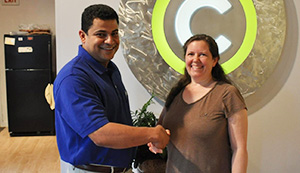 Jean And Ms. McNamee

We are very pleased to have them as our cleaning service.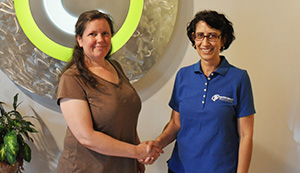 Ms. McNamee And Marli